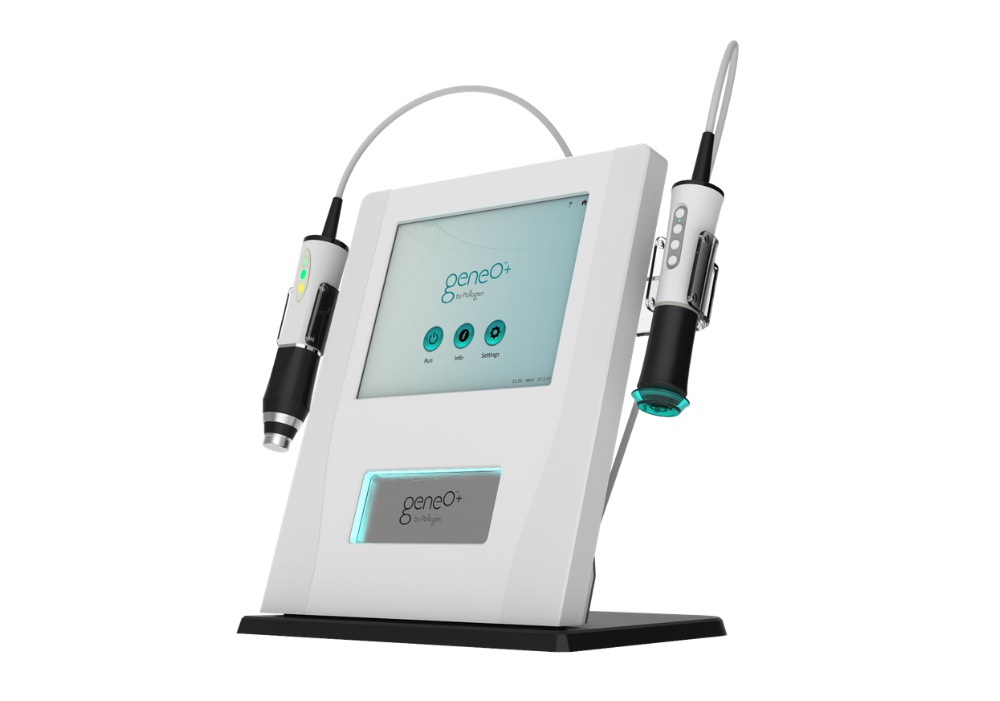 geneO+
geneO+™ is redefining the way aestheticians, beauticians and physicians approach facial treatments.
By combining multiple aesthetic technologies into the one device, the geneO+™ platform delivers three separate facial procedures into one fast and effective 30 minute session:
Patented OxyGeneO oxygen therapy technology
TriPollar Radiofrequency skin tightening
Ultrasound infusion
Call AU
1300 655 013

, NZ

0800 398 749


or click here for a free, no obligation quote
Download our complimentary
2019 Technology Guide
The next generation facial experience at your fingertips
geneO+ engages 3-in-1 facial technology, caters to the busy lifestyles of patients who are seeking quick and effective solutions for improving their self image without disruption to daily life and work commitments. geneO+ offers a cutting-edge alternative to traditional skincare facials with superior clinical results, fast service times and no discomfort or downtime.
Treatments on average take just 30 minutes, and patients can enjoy resuming daily activities, as usual, following their sessions. As geneO+™ facials offer instantly visible results and no downtime, it's the ideal treatment for brightening and rejuvenating skin before a special event, or as a course of treatments for skin preservation results.
Comment treatment responses include:
Invigorates skin with a youthful glow
Revitalises dull complexions
Firms skin and tightens enlarged pores
Improves moisture retention
Relieves eye puffiness
Enhances topical product infusion
Best Price Guarantee* Call Today!
System Features
Three treatment handpieces: OxyGeneo™, TriPollar® RF and Ultrasound
Ability to treat the facial region as well as the décolleté and hands
Ultra modern tabletop design with user-friendly colour touch screen interface
Adjustable treatment parameters for tailored outcomes and objectives
Lightweight and portable device is easily moved between treatment rooms
Single use Capsugen™ treatment tablets enable quick service preparation and maximum hygiene
Personalised patient treatment kits offers a superior level of customer care
Specifications
Power output: Vibration frequency: 5-30Hz
User interface: LCD colour touch screen
Dimensions: 38cm x 38cm x 28cm
Weight: 4.4kgs
Operating temperature: 5-30°
A Comprehensive Training Program Included With Your Purchase!
A highly developed training program is provided FREE for you and one other staff member with your purchase.  geneO+ training is conducted at our Melbourne training centre and a Travel Assistance Rebate is supplied for interstate customers.
Beauty Equipment Sales and Financing
Please also view our Sales and Financing options for a solution that works for your salon, or call our team of experts now on AU 1300 655 013 or NZ 0800 398 749 and let us help tailor a custom made solution to suit your individual business and budget.

The Global Beauty Group Best Price and Quality Guarantee
 Experience our fully comprehensive and personalised customer service and see for yourself why The Global Beauty Group is Australia's premier aesthetic beauty equipment supplier.
Call us now for a free, No obligation quote on AU 1300 655 013, NZ 0800 398 749